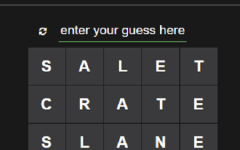 Get ready to level up your Wordle game, because Wordle Calcle is here to help you conquer those five-letter word challenges! No more tantalizing guessing, no more trying every letter in every order. This little up is a game-changer, and it's a must-have for every Wordle maniac!
The ultimate Wordle whisperer
It works like this. You take a shot in the dark, guessing a word that might be the answer. Boom! Wordle Calcle responds with a list of potential words that could fit the bill. It's like having a GPS for your wordy journey, guiding you to the treasure of the correct word. But it doesn't stop there! Wordle Calcle is like a personal coach, keeping you on your toes. With every new guess, your list of possible answers gets a makeover. It's constantly evolving, adapting to your progress and keeping the word game fresh and exciting. It's a time-saver that would make any word wizard jump for joy! So give it a try and experience Wordle on a whole new level!