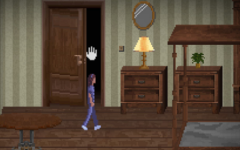 Get ready for an eerie horror game where you will face a plush rabbit, Mr. Hopp. Though it's just a toy, there has always been something strange about his appearance. Soon, you will discover that your suspicions were not groundless. The toy has undergone a monstrous transformation and is now after you. Are you brave enough for a thrilling adventure? Only your wits and courage can help you now. The success depends on your ability to outsmart this terrifying creature?
A night of unthinkable horror
One fateful night, you notice an alarming noise. It is hard to believe but your plush rabbit has come to life, and now Mr. Hopp is a scary creature that will hunt after you. His sinister appearance is a clear indication he is evil. You must not wait for him to capture you. So your only option is escape. Embark on a spine-chilling journey through the gloomy house, navigating traps and eerie toys. You will need to move really carefully, navigating through the obstacles. Any misstep could trigger terrifying sounds, drawing Mr. Hopp attention. Armed with only a flashlight, use it to keep the malevolent opponent away.
Keep on moving!
The house is shrouded in darkness, resembling a dreadful labyrinth. However, giving up is not an option if you wish to avoid becoming a victim of this weird rabbit. Fortunately, you are not completely helpless here. You will get some audio cues guide your way. Are you smart for these challenges and obstacles? This game is intense and filled with scary surprises. However, the level of fright is not excessively intense, making it suitable for both active kids and adults seeking a thrilling, adrenaline-pumping experience. Join the game and brace yourself for some unbelievable fun!