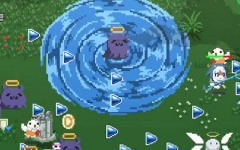 This new project has been inspired by the famous Vampire Survivors game. What is new entertainment about? You control a character, and it is a hololive vtuber. The objective is to deal with the hordes of enemies until you climb up the very top of the ranking table. But there is one nuance – you will have to create and develop your character.
Select your personage
You can get access to 38 characters. At first, you will interact with 5 heroes only. You can unlock them all gradually using in-game currency. Each of these personages come with a unique set of attacks and skills. But when you only select it, you will get basic powers and rating. All the upgrades need to be purchased. This is especially important for the three skills your protagonist has – you can upgrade them three times. Besides, your character also comes with a weapon. You will also be able to upgrade the weapon. You can buy special attacks for the personage to make it stronger. And do not forget about outfits – these can be changed as well.
How to play?
Your main activity is to travel across the map and confront with endless enemies. As you defeat them, you will earn experience points. These funds are needed for upgrades – you can choose what exactly you want to improve or experiment with random upgrade. Your opponents are different monsters and mascots. You can play in stage mode and endless mode. If you choose the first option, be ready to face a duel with a boss. Do not forget that you are to achieve the highest possible ranking. Experiment with weapons and skills to succeed in this entertainment. Try different personages and enjoy endless fun. You will love it.