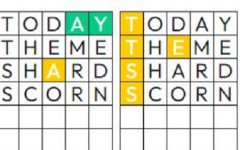 Would you like to pass a fascinating quest for the sharpest minds? Whether you're a puzzle enthusiast or a novice, this game welcomes all who seek mental stimulation.
Thirty-two words are hidden in the depths of this project. Only the most attentive and well-rounded person will be able to solve them by making a maximum of five mistakes! Write any word to start the round, and then change your tactics based on the color hints of the game. In this way, you have to decipher a lot of words.
The game is for anyone with a love for words and a passion for challenges. Regardless of your expertise, this game offers a level playing field. This project is about strategic thinking and pattern recognition.
Tips
For beginners, start with the basics. Focus on familiar words before delving into complex combinations. Pay close attention to color hints: they're your allies in this wordy adventure. Don't rush! Each guess is a step toward mastery. Practice, patience, and a curious mind are your best companions on this journey.
Try a camaraderie of minds, a shared pursuit of mental prowess. Start the challenge, and let the words unveil their secrets under your careful scrutiny. The challenge awaits your intellect!