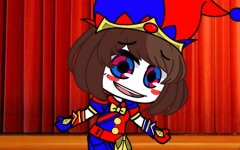 Prepare for an exciting adventure that unfolds in a circus, but not your typical one. It is a digital world with a unique atmosphere and weird characters. Six individuals find themselves mysteriously teleported to this unusual place against their will. And what is really strange – their bizarre transformation. They no longer resemble humans but have acquired cartoonish bodies, both comical and weird. The reason for such a twist remains a mystery. But now they must adapt to this new reality.
They will interact insanely!
In this surreal environment, the characters interact with one another, though these interactions are far from friendly. Caine, powered by AI, takes on the role of a ringmaster and controls them now! Caine subjects them to cruel circus acts that result in injuries and psychological trauma, but he will not allow them to die. Amidst pranks and irritations, they must adapt in this insane circus. How will it all end? It's a wild journey filled with insane interactions that you will surely enjoy!