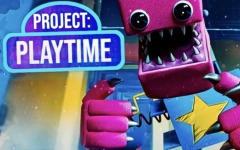 We will never get enough of the old toy factory from Poppy Playtime. We will always want to spend some more hours exploring those empty halls, dim rooms and eerie workshops. And if you're longing for another round of horror adventures in the company of Huggy Wuggy and his monster friends, welcome to Project Playtime!
Fight Huggy Wuggy and other evil toys as a team!
This is just like the good old Poppy Playtime, but you can play it together with your friends. The gameplay supports up to six participants and opens up quite a lot of room for tactical maneuvers. Acting as a team, you will surely defeat the evil toys that will be hunting you throughout the factory. Besides, there is a secret trick down your sleeve – you can actually create a giant toy of your own to fend off the attacks of your enemies… Gripping gameplay, amazing graphics, ability to invite your friends over for a fascinating gaming session and explore the mysteries of the toy making company together will surely keep you at the screen for hours. Check Project Playtime right now and discover all the new gameplay opportunities offered by the multiplayer version that is already available online!