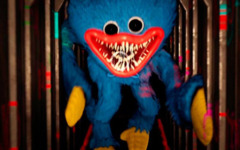 Are you ready to try your hand at unraveling a creepy horror puzzle? You will find yourself at an abandoned toy factory. Years ago, the owners left and the production stopped. Nobody knows what happened. But strange rumors are circling in the neighborhood. Intrigued by this mystery, you decide to sneak into the building and look around. Maybe you will find some clues about the past of the corporation? Just be careful – who knows what you might discover there…
At first, everything will be quite innocent and safe. You'll be walking around a totally empty factory with no traces of anything dangerous or mysterious. Just a shabby place covered in dust and littered with empty boxes and parts of toys. However, the doors and computers are still working, and you can use them to find your way around. Opening the doors will require you pushing various switches and entering security codes. Finding them is another matter, but maybe snooping around the security room will help.
That's where you will also discover a very interesting device. It's a hand on a rope that extends to help you reach distant corners. For instance, if there is a switch somewhere below the ceiling, you can easily get to it by shooting your mechanical palm. The gadget is carried on the back, in the form of a backpack. There are also other curios appliances that are scattered on the location.
However, the most interesting is still ahead! You will get to the bottom of the truth and find out the real reason why the factory was closed – all because of the evil toys. They are alive and they don't like intruders. Prepare to be hunted by a lot of creepy creatures headed by Huggy Wuggy, a huge blue monster. Start playing Poppy Playtime right now and get ready for a hefty doze of adrenaline!