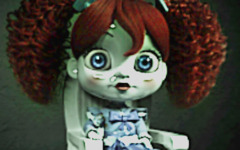 Poppy Playtime is an incredible survival quest with puzzle and horror elements in which your character will explore an old factory that once made toys. Many years ago something happened and the plant was closed. Dolls and plush animals that did not have time to go on sale remained in boxes and on conveyors.
Nobody knows how it happened, but the toys came to life. And they turned out to be very angry. Until a human foot stepped into the territory of the plant, they were in a kind of suspended animation. But as soon as you walk into a door that has not been opened for decades, they regained consciousness. Now these creepy monsters are hunting you. If they catch you, they will kill you, so you need to get out of this terrible place as quickly as possible.
Start by doing a good job of exploring the area. This will help you decide on a plan of action. Walk through the offices and workshops – a lot of interesting things are left there. Be especially careful when touching old equipment as you can get an electric shock. There are many puzzles to solve for you. As a result, you won't only find your way to freedom, but will also uncover the mystery of this place. Enjoy the gameplay!