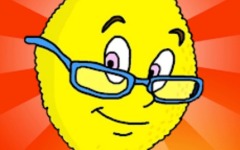 This indie horror game is a sequel to a well-known story about Mr. Tomatos. But this time, you will meet a new personage. It is Ms. Lemons, a strict teacher that will be checking your knowledge. She will invite you to her class to ask a few questions. If you believe your knowledge of the basic subjects is fine, you have nothing to worry about. Your task is to provide correct answers to some math and geometry problems and pass a memory test. But if you do not know the right response? Do not think of it now, you will learn everything else very soon!
Look at the board and act!
You will find yourself in the class of Ms. Lemons. She looks quite friendly and asks you to focus on the board where all the questions will be displayed. The first level is math tasks. Think fast to provide each response before the time is out. Try to avoid mistakes. Each failed question will add a point to the irritation scale of your teacher. And what will happen when you fill it completely? Mad Ms. Lemons will turn into a bloodthirsty creature! In this case, you are in trouble as her tasks will turn into a dangerous game where you are literally doomed. Do not let it happen!
Is your ending going to be positive?
There are several scenarios of this game, and not all outcomes are with a happy ending. How will everything end up for you? It all depends on your actions and decisions. The game has a rich menu – you can purchase a lot of different things that can influence the event development. Each of them can come in handy when you struggle with a task. So make sure you earn enough coins to get a decent tool arsenal that will help you during the walkthrough. Some instruments will even help you to protect yourself from the treacherous Ms. Lemons. Think over each your step to hold out until the very end of the game and remain alive!