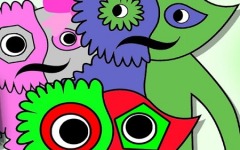 Garten of Banban is open again, and you're welcome to step right in! Just like before, it's going to be a spooky ride of puzzles, riddles and monster toys. Will you have the guts to explore it from top to bottom and figure out what happened to the missing kids? Let's see!
Back to square one!
This time, the infamous kindergarten looks even more gruesome and desolate. You'll have to make your way through the abandoned classrooms and creaky staircases, look into every nook and cranny that may hold clues to steer you in the right direction.
As you progress through the game, prepare for some seriously brain-boggling puzzles. These aren't your grandma's jigsaw puzzles – we're talking about riddles that'll twist your brain into knots, and challenges that'll make you scratch your head so hard, you'll need an extra-large cap.
And those monsters! They are like nightmares come to life, with teeth that could make a shark jealous and eyes that gleam with malevolent glee. It's like your worst kindergarten nightmares teamed up and decided to throw a party in your honor. Show them you're not afraid of them and you're determined to stick to the end in Garten of Banban 6!