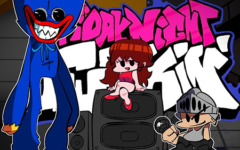 One of the best things about Friday Night Funkin is that it introduces so many new characters all the time. Even heroes from other games make their appearance in this music arcade and Boyfriend has to fight them in rap battles. That brings in a lot of diversity and never lets you get bored. Because if you're already tired of the same tunes and you know them to the last beat, there are always plenty of new mods to try. One of them that appeared recently is FNF Poppy Playtime. As you can guess, it has something to do with a horror game about an abandoned toy factory released a while ago. Are you ready for a new twist in Boyfriend's adventures? Then let's begin!
On their journeys, Boyfriend and Girlfriend love visiting different places. That's where they find new opponents and potential sources of trouble. However, they manage to avoid death every time and continue their way. Tonight it led them to the plant where Playtime Corporation used to make their toys. The toys were highly popular, but it seems there was something wrong with them. One day they just attacked the staff and everyone ran away. The factory has been closed ever since. Until our heroes set foot there. Now they have to battle on stage against the blue monster named Huggy Wuggy. Will you be able to able to defeat that creepy being? We're about to see!
The whole point of the game hasn't changed. You will see your character on stage in the neon lights. He will be holding a microphone, ready to groove to the beat. The main thing is to follow it carefully! The tune might be changing its tempo and rhythm and you need to keep your ears sharp. If you hit the note right, you will get points. And they will multiply if you do that many times in a sequence. Then you will be able to do a combo that will send your score sky high. However, if you skip too many notes, your health will keep dropping, and at a certain moment you will fly out of the battle. Plunge into a new horror music adventure of FNF Poppy Playtime and measure your chances against Huggy Wuggy!