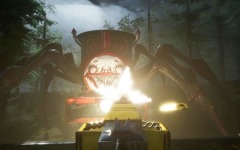 If you cannot live without adventures, here is a new challenge for you. It is a horror game, but in reality the entertainment is not too scary. However, it is full of thrills. So what is this story about? You start on an open world island – you have a serious mission to complete. The locals are suffering from the attacks of a weird monster. It is Charles, a train with a terrible appearance of a spider. The monster is fast and merciless and attacks everyone he can reach! Will you be able to stop him?
Drive and upgrade your train!
You will be moving across the island in a small locomotive. However, your train is very poorly equipped. So your primarily task is to upgrade your vehicle. For this, you need to collect scrap resources – then you will be able to get some upgrades and weapons for it. Your route will go across the whole island. Sometimes, you will have to stop and leave your train as local residents will give you different tasks to complete. The more experience points you accumulate, the more improvements for your vehicle you get. As soon as your train is excellently equipped, you will be ready to meet Charles face to face and defeat him. You will love this thrilling adventure!