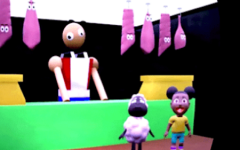 Can you imagine a game that is cute, educative and creepy at the same time? Here is one you definitely shouldn't miss! Playing Amanda The Adventurer, you'll have a chance to get inside an old children's TV show recorded on a few taps you found in your attic and make your way through all those strange sceneries in the company of the main heroes. Let's begin!
Welcome to a retro TV show!
From the very first moments of the game, you'll be surely captivated by the retro look and that special old school atmosphere spilled in every scene. You'll meet Amanda – a fearless little girl who will show you around – and her friend – a cowardly toy sheep named Wooly who follows her everywhere being afraid to get lost. Amanda will also guide you through the gameplay asking you questions whenever there is a new puzzle to solve. These puzzles won't be very complicated – most of the times, you have to find objects on the screen, build words out of letters and so on and so forth. The controls are really easy and intuitive, so you'll instantly figure out what to do.
Are you afraid, kids?
In total, you have to pass three chapters that correspond to three video tapes. It's also interesting to see how the two worlds interact – the space of your attic and the setting of the TV show. It's like a game within a game, and that creates a sense of surreality. Besides, the show itself is not quite as you would expect a kids' show to be. Sometimes it seriously creeps you out, so get ready for any surprises, even though they might be a little bit baffling and scary! Immerse yourself in this amazing horror game right now and enjoy every moment of it!